Team #8
Nicki, Programmer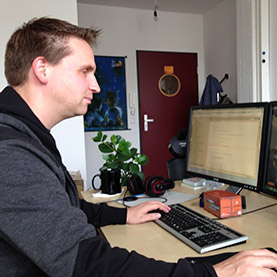 Nicki is one of our coders at Deck 13 Hamburg and takes care of all the little details that have not been covered by his colleagues. He loves learning new tricks of the trade from already existing source codes.
Age:
37
Joined Deck13:
June 2014
Favorite retro game:
Another World
Favorite current game:
Gears of War
Favorite band:
Poets of the Fall
Favorite dish:
Original Szechuan style Chinese food – not the westernized version you can get in German restaurants.
I am a game developer because:
…I am an absolute gaming nerd and love to code. What better way to combine both passions in one job?




Team #7
Torsten, Programmer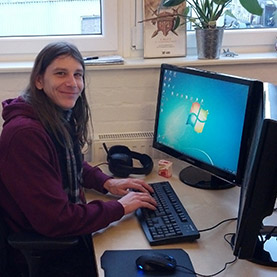 Torsten is a programmer at Deck 13 Hamburg and therefore responsible for combining the graphic artists' pixels and Andrea's charts into an enjoyable whole. He codes for example the menus, the controls and the events, that occur under certain circumstances. And in case that there is a bug somewhere, it is Torsten who will tirelessly dive into the darkest depths of the code to find it.
Age:
35
Joined Deck13:
November 2013
Favorite retro game
Sonic The Hedgehog
Favorite current game:
World of Tanks
Favorite namespace in C#:
System.Collections.Generic
Favorite dish:
Coffee
I am a game developer, because:
...there are new challenges every day, the job is never boring and I wanted to become a "game inventor" since I was a little kid.




Team #6
Daniel, Programmer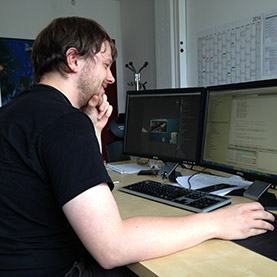 Daniel is a programmer at Deck13 Hamburg and responsible for creating magic formulas out of simple text. "Magic" in this case stands for everything that can't be explained, but fits well with the workings of a computer running on one of the world's most widely spread operating system.
Age:
27
Joined Deck13:
February 2014
Favorite retro game:
The Day of the Tentacle
Favorite current game:
Wiggles
Favourite method name of TransOcean:
InitGameStart.NewGame()
Favorite dish:
Maté
I am a game developer because:
...it captivates me to see how a story develops when I take influence on it.
A game's interactivity in contrast to a predefined gameplay and the implementation of its dynamic development influenced by the expected or unexpected reactions of the players are factors which make both playing and developing games such an exciting hobby and job.
Especially from the view of a programmer it is very interesting to discover how a few thousand lines of text combine into a single unit - which however rarely does what you imagined it should do.
Things like the creation of fantastic worlds, which we maybe will discover somewhere in space in a thousand years or the unexpected behavior of an AI are what always motivate me to meet and master new challenges. The working relationship within a great team is also very important to me.




Team #5
Fabian, 3D/2D-Artist-Intern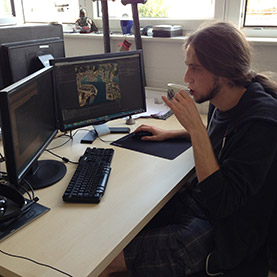 Fabian is currently doing an internship as a 2D/3D graphic artist here at Deck13 Hamburg. His job is to assist Marco and Marko when it comes to creating and placing assets. He is also involved in planning and designing the game environment.
Age:
24
Joined Deck13:
March 2014
Favorite retro game:
Gothic 2
Favorite current game:
Resident Evil 4
Favorite Blender tool:
Dynamic Sculpting – sculpting without paying attention to topology.
Favorite dish:
Pizza – especially salami pizza
I am a developer because:
...game development is a varied job, which continuously presents you with new challenges that let you explore the personal limits of your skills. This never gets boring!




Team #4
Martin, Concept Artist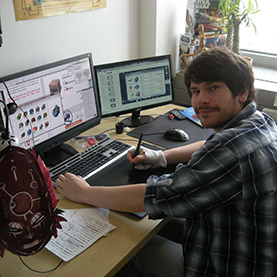 Martin is a concept artist at Deck13 and is responsible for layouts, construction sketches, as well as 2D and GUI graphics. Before all the game parts can be built and then assembled in 3D he creates them first in 2D and then defines them further. Thus, it is possible for us to visualize how the game could look in its final form already in an early stage of development and whether the team is satisfied with the design or not.
In many cases, there are a great variety of design versions being developed only to be discarded later on because we aim to deliver only the graphically best gameplay experience to the player.
Age:
24
Joined Deck13:
2011
Favorite retro game:
Alien Breed
Favorite current game:
Civilization V
Favorite Photoshop tool:
PS "Undo" (CTRL+Z) and "Step Backward" (CTRL+Alt+Z) – two classics! Where would we be today without these functions?
Favorite dish:
Thuringian bratwurst (sausage) and homemade potato salad (from the local/native Thuringian kitchen – seriously, they are all rubbish outside of Thuringia!)
I am a game developer because:
...as an illustrator, I have been infatuated with creating worlds and embellishing them since my early childhood. Thus, it was only a logical step to work towards being in this profession - also because it is a more established/safer job than working as a comic-artist here in Germany.




Team #3
Marco, Lead Artist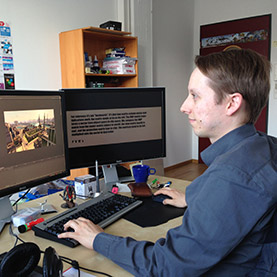 Marco is working as a 2D/3D artist for Deck13 Hamburg and additionally to ships and environment assets designs also shaders and small scripts, which make the creation of levels a lot easier or add further effects to them. Within our small effective team he also likes to think outside of the box and uses Andrea's Excel tricks for his asset planning - or he discusses new script ideas with the programmers.
Age:
32
Joined Deck13:
June 2013
Favorite retro game:
UFO Enemy Unknown
Favorite current game:
Skyrim
Favorite brush in ZBrush:
TrimDynamic – from simple pebble to marble stature, this brush never lets an artist down.
Favorite dish:
Tandoori Chicken with lots of garlic
I am a game developer, because:
...it inspires me every time to witness how such a complex and interactive construct like a computer game can be produced through hard teamwork. It's not rocket science ... but it's close.




Team #2
Marko, 3D/2D-Artist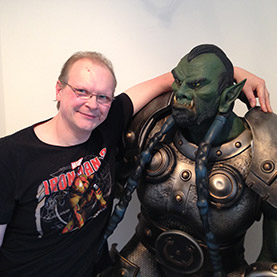 Marko is our 2D/3D graphic artist. He places assets and maps, generates texture sets and builds scenarios and terrains. In short, he creates a lot of the things which can be later seen in the game world - be it ships, buildings or even seagulls. Out of all of his creations we will then try and build a believable, playable world that is nice to look at and will please both the eyes and heart of the player.
Age:
44
Joined Deck13:
June 2013
Favorite retro game:
Elite
Favorite current game:
Gran Turismo
Favorite Maya tool:
Merge Vertex Tool
Favorite dish:
Homemade Koenigsberger Klopse (meatballs in a white sauce with capers) cooked after an old family recipe.
I am a game developer, because:
...my days are never boring, you can always work with the newest technology and you have the chance to create your very own worlds.




Team #1
Andrea, Game Designer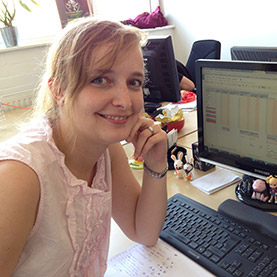 Andrea is working as a game designer for Deck13 Hamburg. It is she who creates the rules and the game structure of TransOcean, which can then be implemented by the coders. Menus are paramount to the playing experience of economic strategy games therefore she has to take special care that everything is easy and intuitive to use.
Andrea also optimizes the fun factor of the game: The goal is to make the experience riveting right from the onset and have it remain fun to play even after several hours have passed.
Age:
28
Joined Deck13:
June 2013
Favorite retro game:
Der Planer
Favorite current game:
Journey
Favorite balancing function:
The root. Fast ascent, levels out towards the end. This is great for giving players a feeling of progress.
Favorite dish:
Meatballs with potatoes and mushroom sauce
Favorite quote:
"I am no hero. Never was, never will be." - Snake, Metal Gear Solid
I am a game developer because:
...it is my dream that one day I will meet a stranger, who enthuses about a game, and I will then have the opportunity to say: "I've created that!"